Evergreen Program
Evergreen Program
Just as there are evergreen trees that keep our landscape vibrant whatever the season, there are Impact 100 Baldwin County members whose dedication supports our community year after year. By knowing the number of returning members we can count on each year, we can focus on recruiting new members and keep our grant pool growing for the people of Baldwin County.
Become an Evergreen member by committing to annually renew your Impact membership and enjoy even more benefits.
As an Evergreen member, you will receive invitations to special events, in addition to recognition in the Impact 100 Baldwin County directory and on your nametag. You'll be able to choose among special sponsor-funded Evergreen swag that showcases your commitment to making a difference. Yes, you will be a part of an important and exclusive group of women.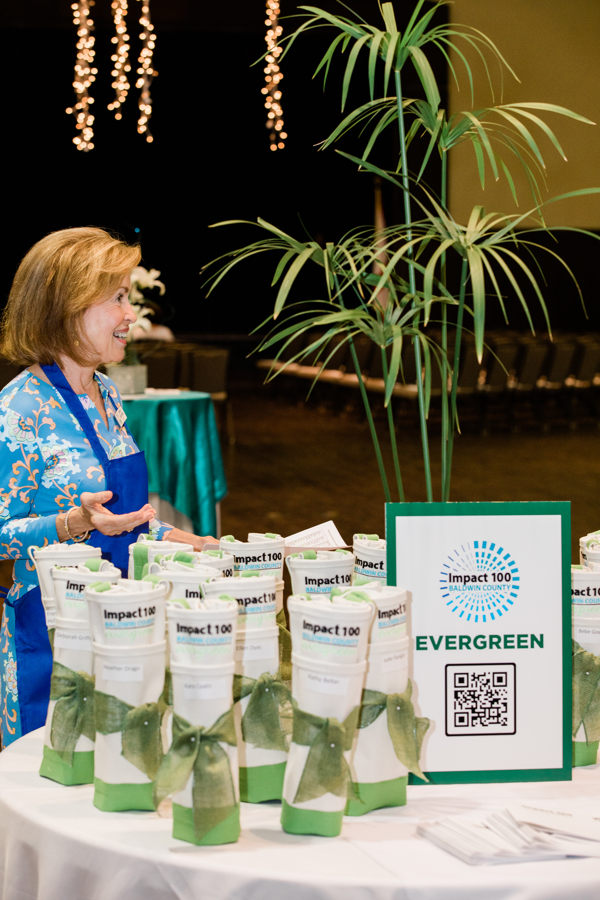 Declaring your commitment to be an Evergreen member is easy: check the Evergreen box on your Impact application and pay your $1,000 membership by March 1 each year. If your circumstances change and you can't continue to renew in future years, just let us know. Your pledge is not a legal obligation, but a statement of your commitment to Impact 100 Baldwin County.
How does Evergreen work?
You commit to annually renew your Impact 100 membership by checking the Evergreen box on the Impact 100 Membership application.
Until you let us know otherwise, in coming years you will be considered a renewed member and will receive an invoice in early December. You may pay your dues any time prior to March 1 of the membership year.
You may choose to set up a recurring autopay from your bank: pay in one lump sum, or in installments throughout the year, as long as your full $1,000 is paid by March 1 of the membership year. You may also pay by check, credit card, or stock transfer.
Every one of my one thousand dollars goes to grants – and that's what I want to see.
Rachel Bailey, member since 2020